This article aims to provide a simple step-by-step manual for recovering an existing wallet utilizing the Shamir backup feature.
'Recovery' refers to the process of using recovery shares to restore and enable access to already existing accounts.
For detailed information about the method of splitting the backup into multiple shares, see the Shamir Backup article.
Shamir backup is currently available only for Trezor Model T.
Preparing your Trezor for recovery
My Trezor is new and/or empty
Your Trezor is ready for you to restore your wallet.

My Trezor is initialized
If you lost your PIN and need access to your accounts, or if you wish to load a different seed onto your device, you will need to wipe the memory of your Trezor. See the following articles for detailed instructions:

Important remarks before you start

The entire recovery process is done directly on your Trezor Model T, which you can operate using its touchscreen.


Never type your recovery shares into a computer. If you find a website asking for the words of your backup in a straight sequence, it is probably a scam.


Your Trezor device will enter the recovery mode when you initiate the process. Once in recovery mode, the device will remember where you left it if you unplug the cable from your Trezor Model T.

You can enter each recovery share one at a time, move geographically, and then continue the process after you plug your Trezor device into a power source (it can be a powerbank, mobile phone, or even just a plain electrical socket).

Things you need to perform the recovery of a wallet using Shamir Backup

Trezor Model T with firmware 2.1.4 or newer
Compatible supported operating system and configuration
Internet connection for initiating the recovery process
Required number of recovery shares to reach the threshold (determined while generating the wallet)
Recovering your wallet
Start Trezor Suite and connect your Trezor Model T
After checking / updating device firmware, in the "Wallet" window click on 'Recover wallet':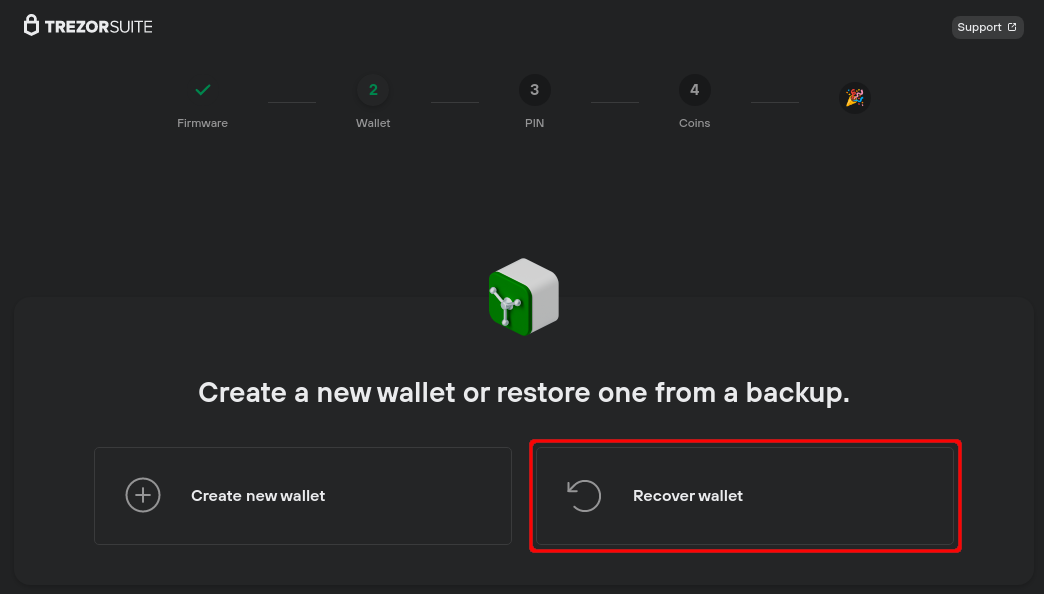 Then click on Start recovery:
You will then need to confirm that you want to begin wallet recovery on your Trezor Model T: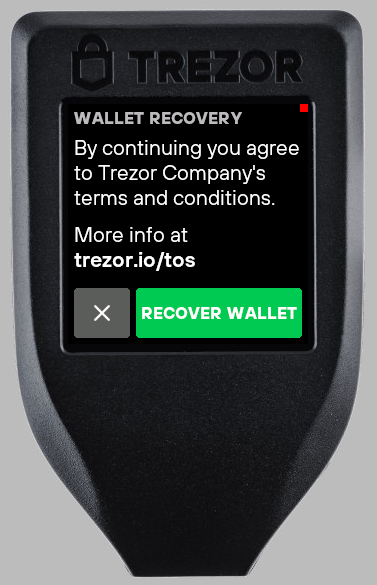 First, press Select, and then choose the number of words in each of your recovery shares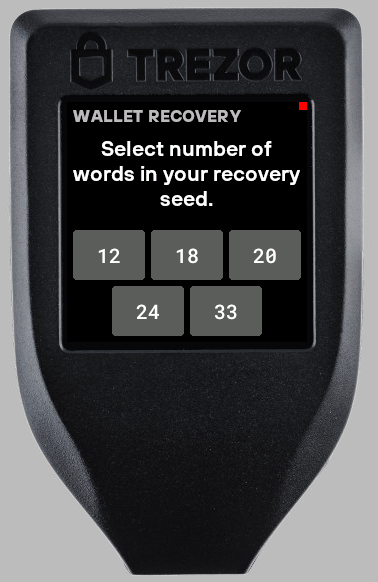 Then press Enter share and enter any one of your shares using the touchscreen on your Trezor Model T:


Recovery shares can be entered in any order. The words of the recovery shares have to be preserved and entered in a specific order for the share to be valid.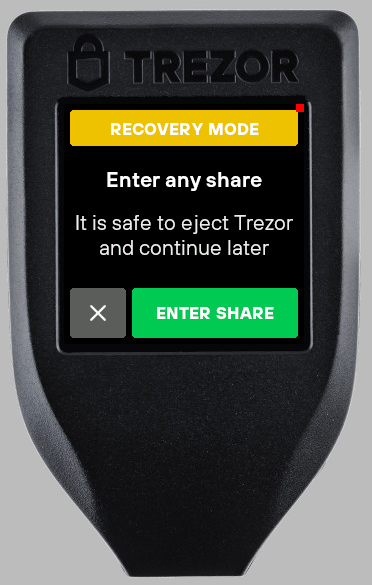 Hint: once you've entered the first four letters, your Trezor device will 'autocomplete' the word to speed up the entry process. For example, if you want to enter the word "flexible"
Press the "ef" tile twice: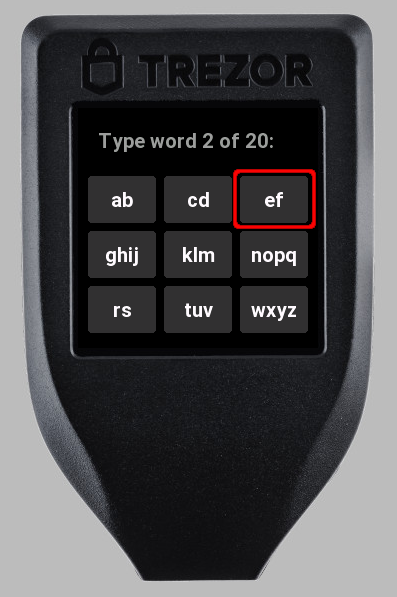 Then the "klm" tile twice: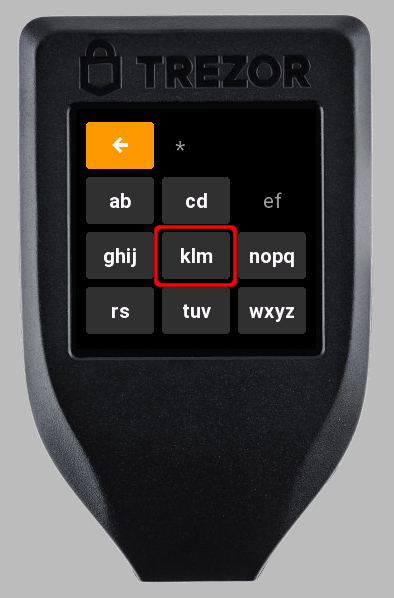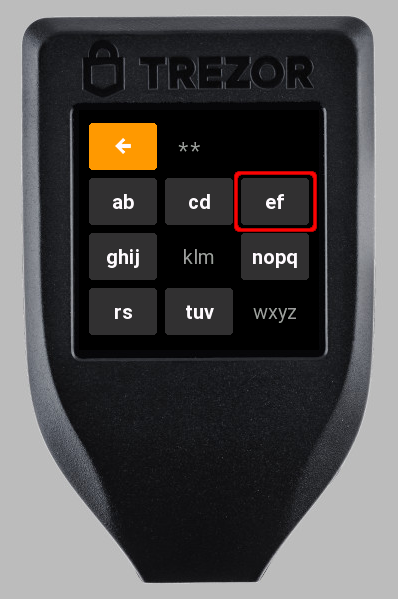 Then the "wxyz" tile twice: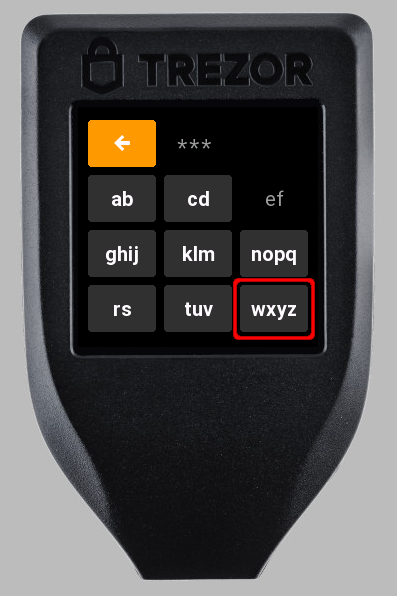 The word "flexible" will be auto-completed by your Trezor Model T; just click on the green tile to enter the word: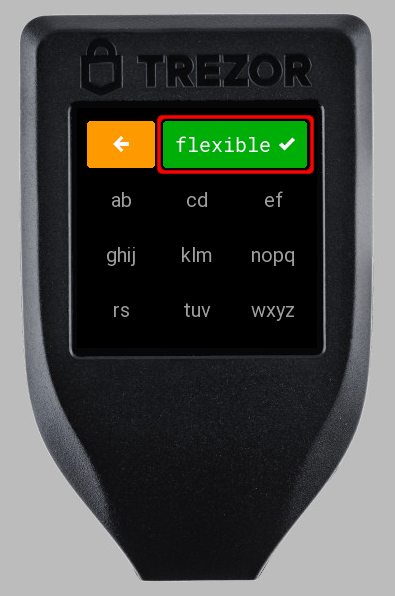 After successfully entering the first recovery share, your device will recognize the required threshold and let you know how many shares you still need to enter.
Continue until you have entered the threshold number of shares. Once the process is complete, you will see the confirmation screen on your Trezor device. Click Continue to proceed with the rest of the device initialization process: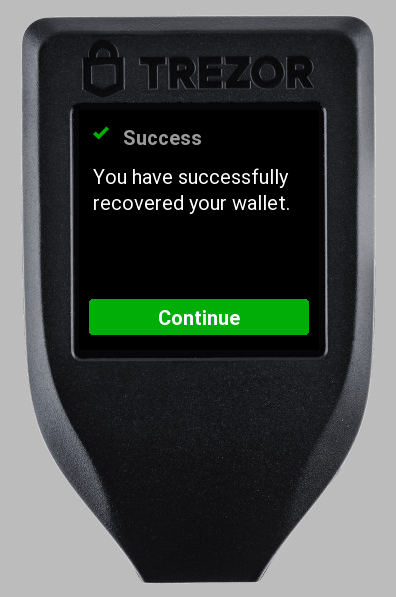 If you performed recovery externally, utilizing Recovery Mode, you can now connect your device to a computer and access your wallet.

You can learn more about using Shamir backup on the Trezor Model T in this video: