In this section, we have set out the steps you must take in order to access your standard and passphrase-protected hidden wallets, both directly in Trezor Suite and via the Trezor Connect interface.



Only create passphrase-protected hidden wallets once you understand how the passphrase feature works. Funds secured by a passphrase cannot be recovered without it!



Before we dive into the details, the following video gives an overview of how to use the passphrase feature in Trezor Suite, MetaMask, and other apps:

Standard and Hidden Wallets in Trezor Suite
The passphrase feature is enabled by default. This provides second-factor protection of your recovery seed in case of attacks involving physical access to your Trezor device or the associated recovery seed.
Although the passphrase feature can be toggled on and off in the Device settings, we recommend keeping the feature enabled and setting up passphrase-protected hidden wallets as part of our security best practices.

Every time you start Trezor Suite you'll see the 'Select wallet type' modal window: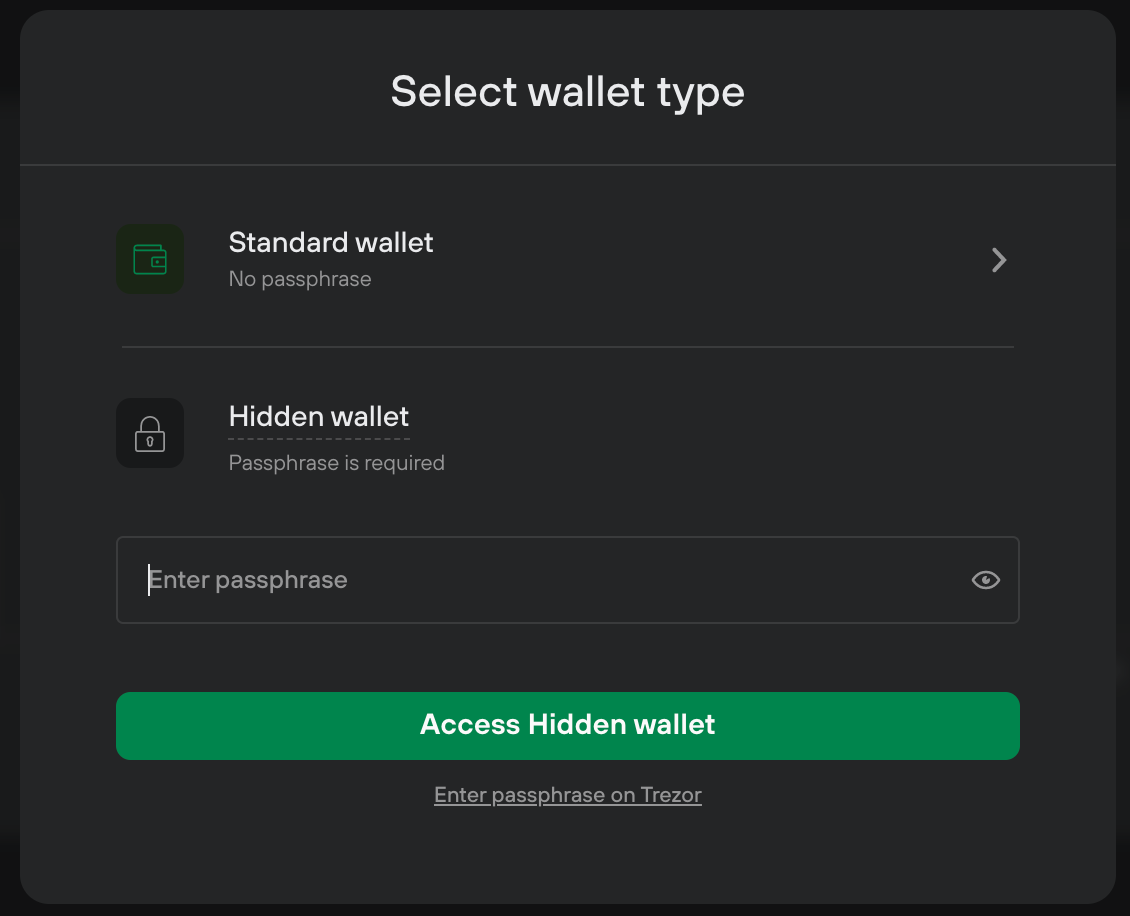 Standard wallet
To access your Standard wallet, which is not passphrase protected, simply click on 'Standard wallet'
You will then go straight to the Trezor Suite Dashboard
Creating a new Hidden wallet
Remember:
* Passphrases are case-sensitive
* A blank space is also counted as a valid character
* Pay attention to the keyboard layout, as character maps may differ between devices
To create a new (empty) passphrase-protected Hidden wallet, type your chosen passphrase in the input field (which displays the message 'Enter passphrase' by default) and then click Access Hidden wallet: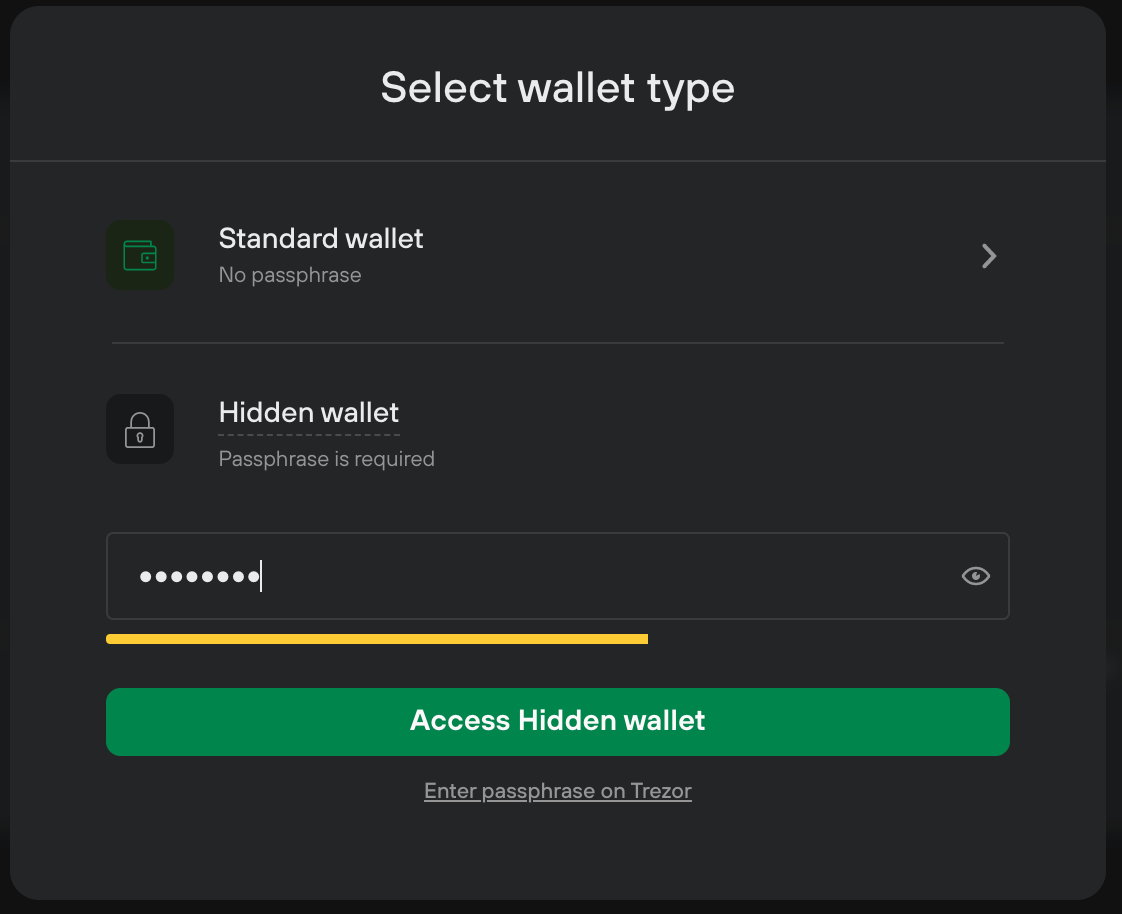 The passphrase strength indicator makes it easy to check how strong your passphrase is
Confirm the passphrase again using your Trezor device by following the on-screen instructions
Trezor Suite will then check your account balances: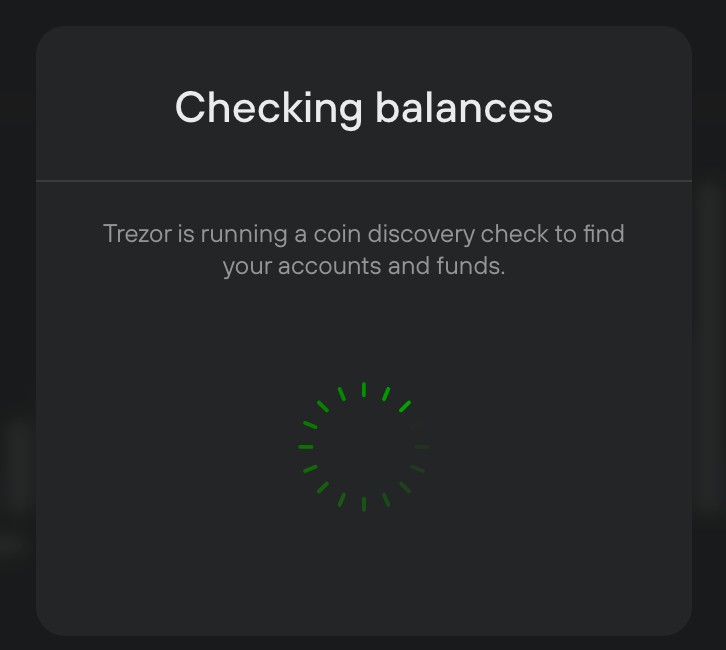 Since each brand new hidden wallet is empty to begin with, you will then see the "Confirm empty hidden wallet" modal window: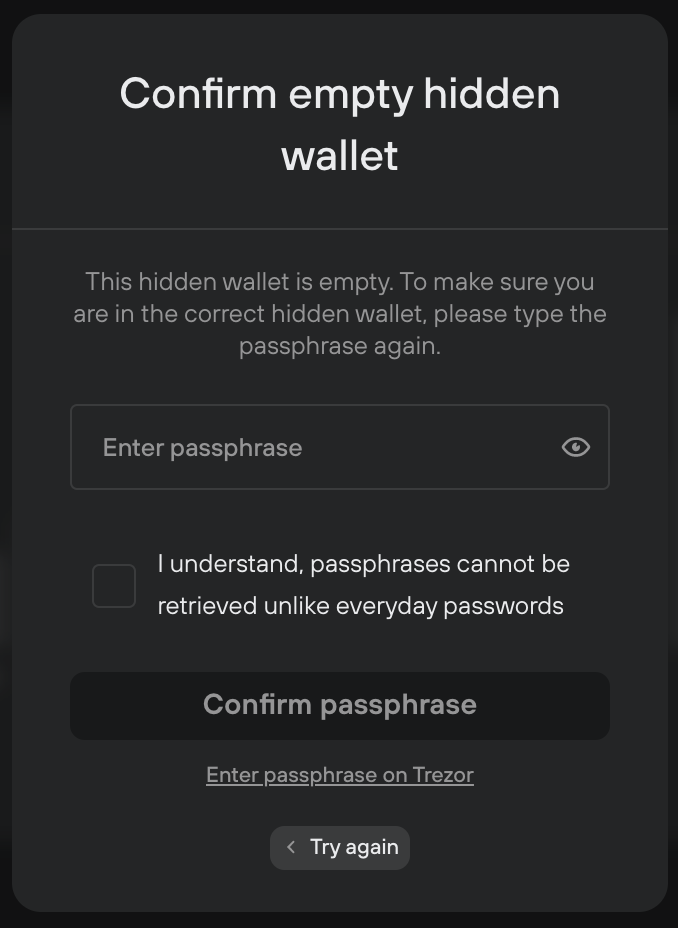 Here you must re-enter the exact same passphrase. You must also confirm that you understand that passphrases cannot be retrieved in the same manner as regular passwords by checking the 'I understand' box. You can then press the Confirm passphrase button
Follow the Trezor device on-screen instructions to create the new (empty) passphrase-protected hidden wallet
Finally, you'll be re-directed to the Trezor Suite Dashboard, and you'll see confirmation that "Your wallet is ready to use!"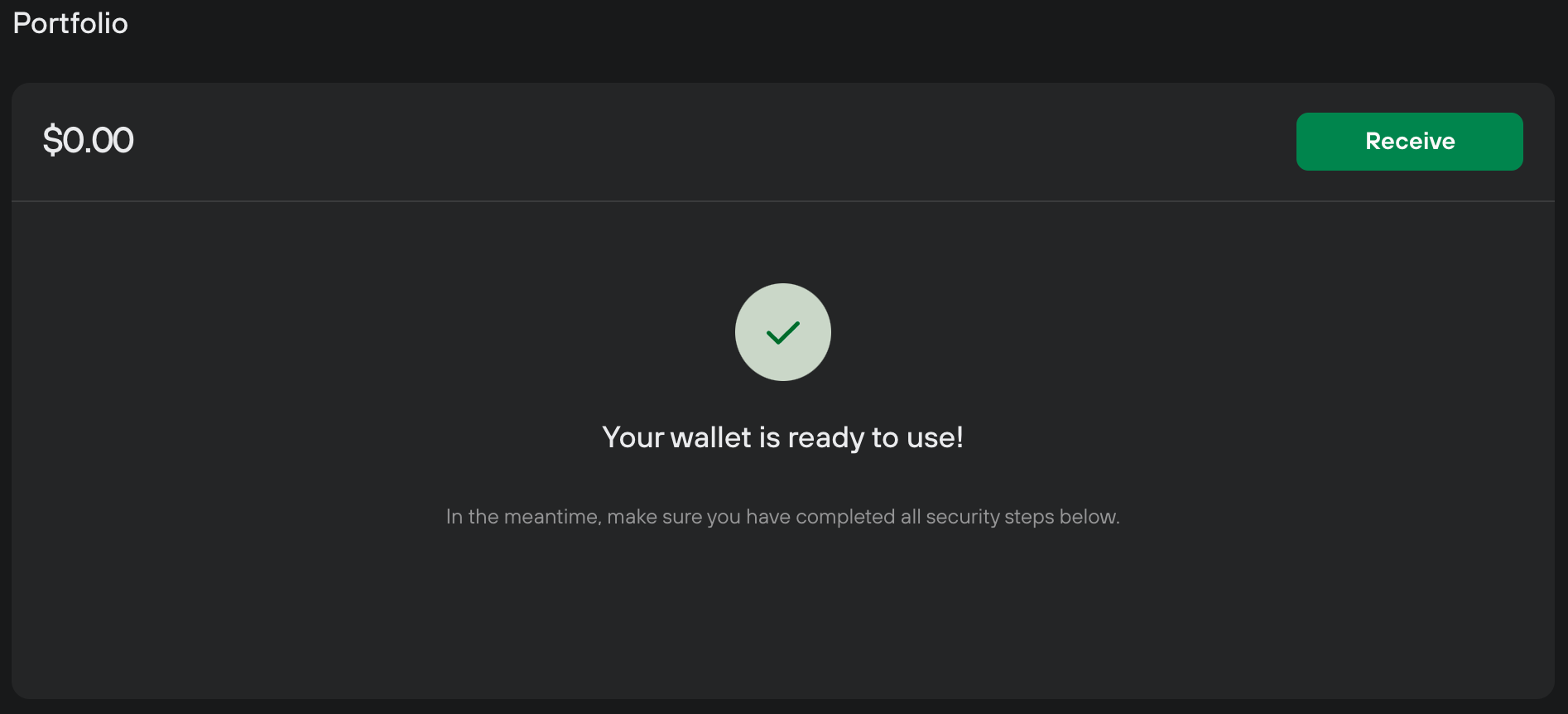 Accessing your Hidden wallets
If you're already using your standard wallet in Trezor Suite, you can load your hidden wallets through the following process:
Click on the device name in the top-left hand corner of Suite:

This will bring up the 'Wallets' modal window. Now click on the 'Add hidden wallet' button: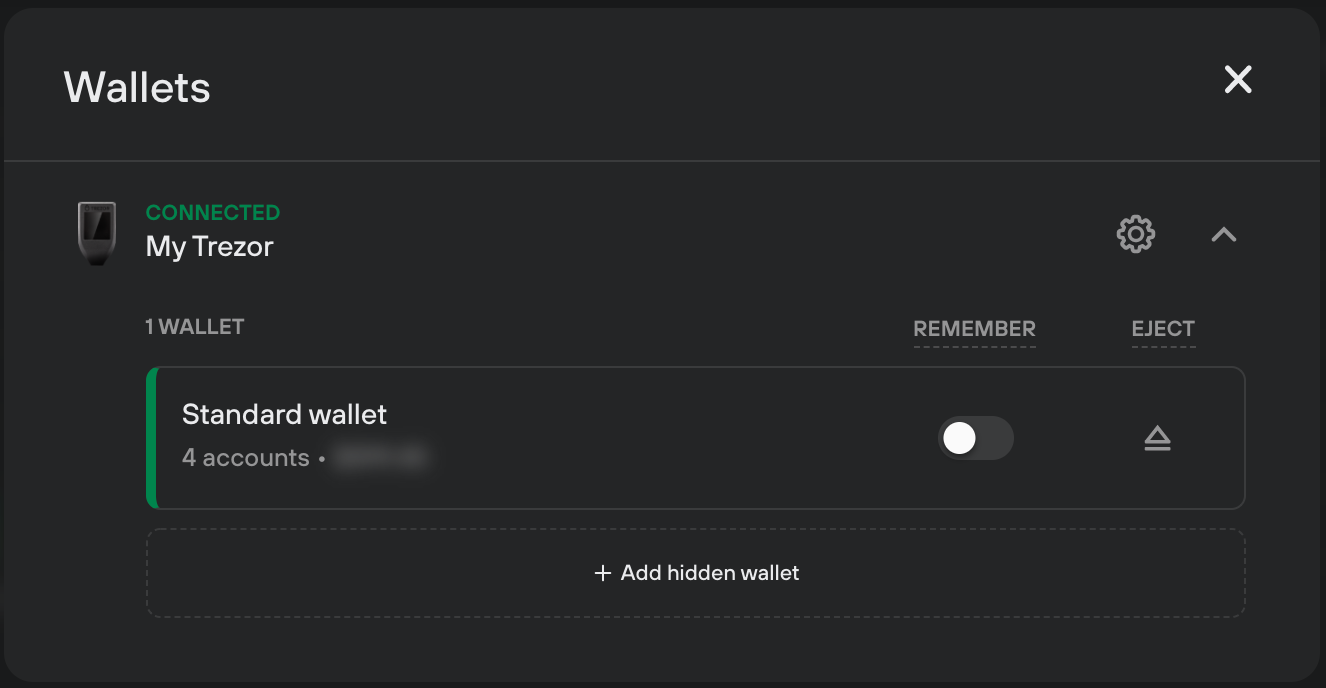 If you already loaded a hidden wallet on start-up and wish to open either your standard wallet or another hidden wallet, the text in the 'Wallets' modal window looks slightly different.

Instead of showing the [+ Add hidden wallet] button, it now reads [+ Add wallet]. This just reflects the fact that you can add either a standard or hidden wallet.

Naturally, if you want to load your standard wallet then no passphrase is required.
In the 'Hidden wallet' window, enter the correct passphrase and then click on Access hidden wallet: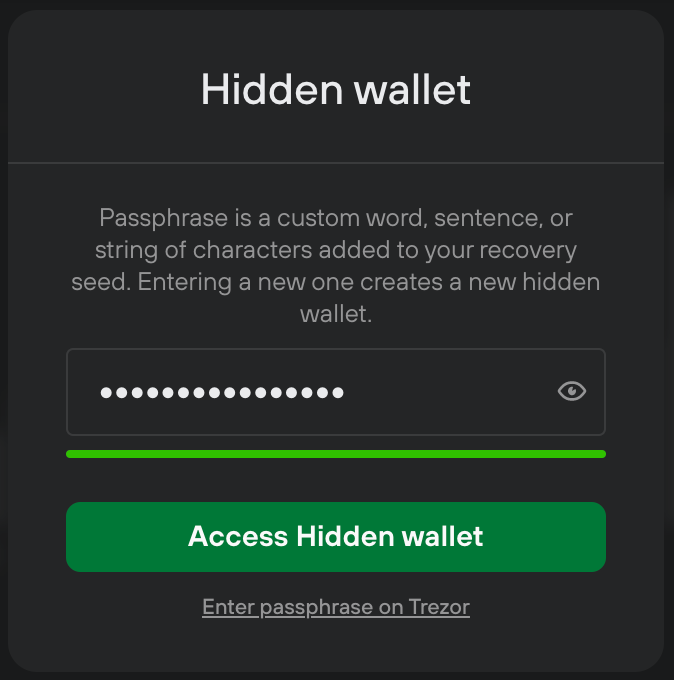 Follow the Trezor device on-screen instructions to access the passphrase-protected hidden wallet.

On-device passphrase entry using the Trezor Model T touchscreen
Trezor Model T users can choose to enter the passphrase either on the host device (a computer, phone) or directly on the Trezor by using the touchscreen for added security.

Trezor Model T users can switch to on-device passphrase entry by selecting 'Enter passphrase on Trezor' in the 'Select wallet type' or any of the 'Hidden wallet' modal windows: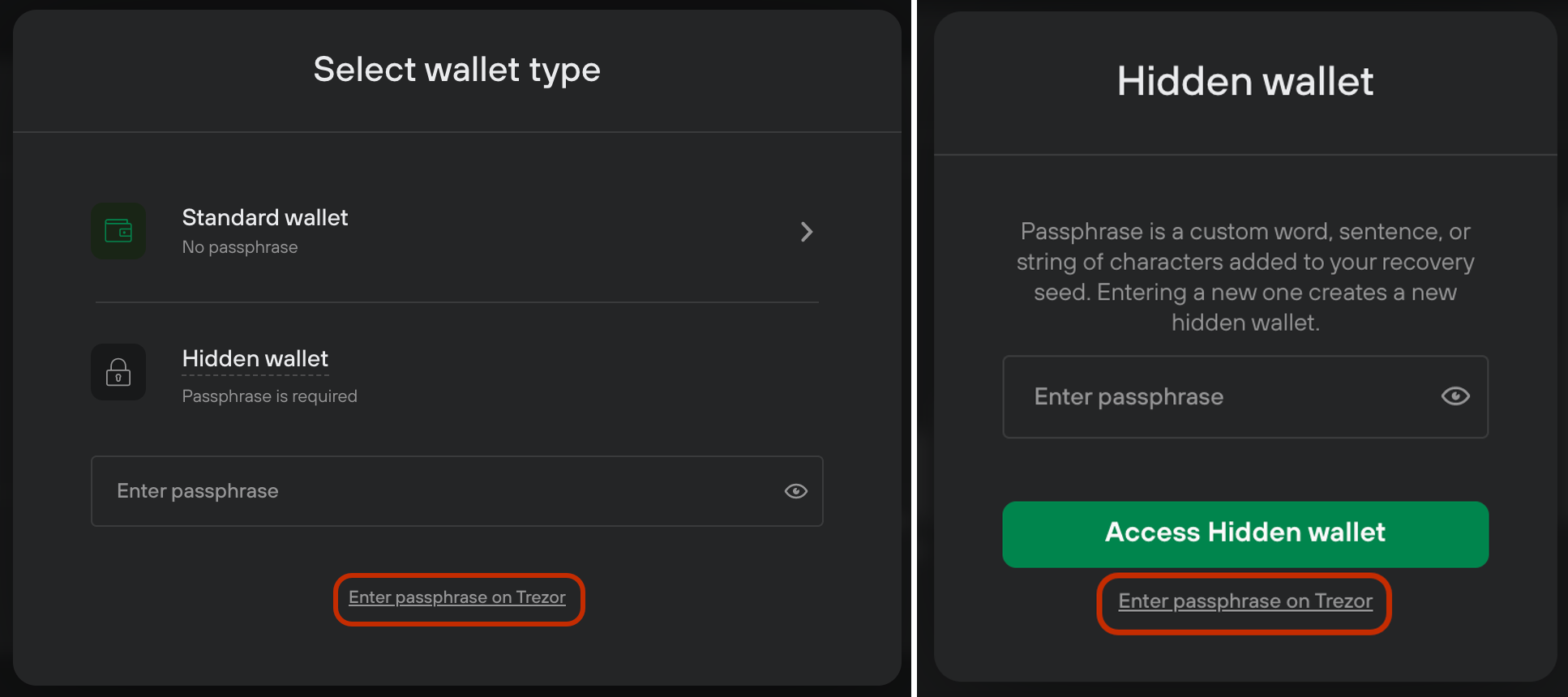 When entered using the host device, both Trezor models show the passphrase on the device screen for confirmation (introduced in firmware 1.9.3 for Trezor One and 2.3.3 for Trezor Model T).

Some important remarks


First, make sure you've read and understood everything in the dedicated passphrase article.

Most importantly, remember that if you forget a passphrase, you lose access to any associated funds!
The 'Confirm empty hidden wallet' step serves as a check that you are entering the correct passphrase. You should only expect to complete this step whenever you create a new (empty) hidden wallet, or when you're accessing a hidden wallet the you know is currently unused/empty.
If you're already holding funds in a hidden wallet, you only need to enter its passphrase once in the 'Hidden wallet' window, and then confirm the passphrase using your Trezor device. You will then be taken directly to the 'Dashboard' view of Trezor Suite.
Mistyping / misspelling a passphrase will generate a new hidden wallet. There is no such thing as an "incorrect" passphrase.
If you enter the passphrase of a wallet that's already 'loaded' in Trezor Suite, you will see the 'Passphrase duplicated' message. If this is indeed the wallet you intended to load, simply click on Continue to discovered wallet, otherwise you can enter a different passphrase by selecting Try different passphrase: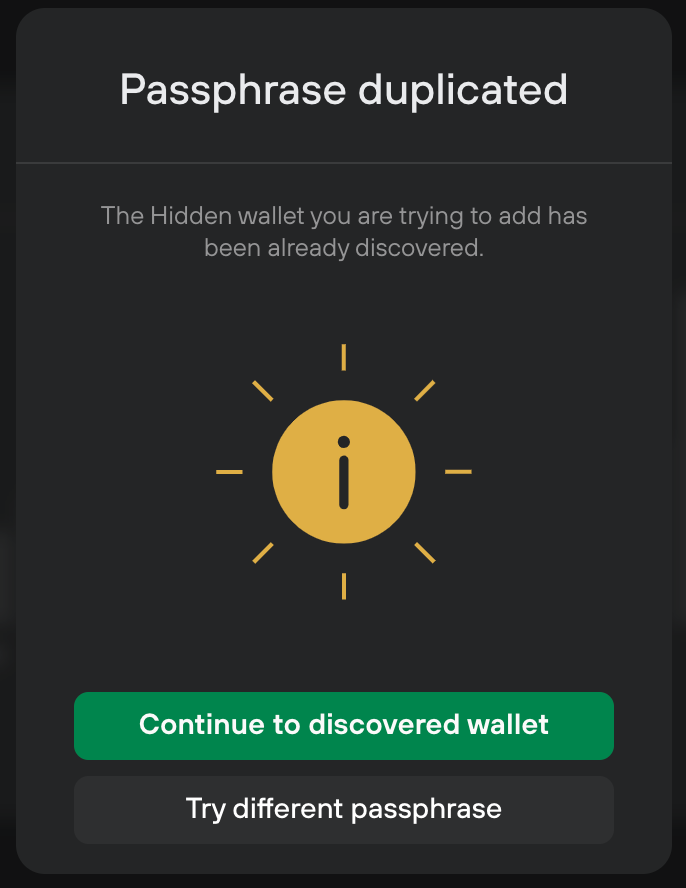 If you create a physical backup of a passphrase, please keep it separate from your physical backup of your recovery seed. Alternatively, you may wish to consider choosing a memorable passphrase and setting up reminders to refresh your memory at regular intervals, e.g. once per month.
Entering a Passphrase to Access Hidden wallets via the Trezor Connect Interface

Trezor Connect makes it easy to login to websites and applications using your Trezor device. The passphrase feature is used in exactly the same way as with Trezor Suite:

Leave both the 'Passphrase' and 'Confirm passphrase' fields blank, if you wish to access your Standard wallet.
If you require access to a hidden wallet, enter the exact passphrase associated with it into both fields. Entering anything else will simply create another passphrase protected hidden wallet.
When using Trezor Model T, you can choose the option 'Enter passphrase on device' for an extra layer of security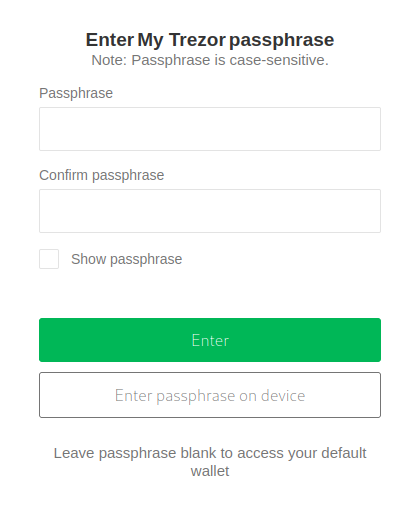 Warning: your web browser may offer to auto-fill the passphrase field(s) - do not do this, as you may generate a passphrase-protected hidden wallet without having any idea of the passphrase automatically generated/entered by the web browser!