TABLE OF CONTENTS
Using the Buy option in Trezor Suite
How are the exchange partners selected?
What are the KYC requirements of third-party exchanges?
Complete your transaction with the provider
Await delivery of your cryptocurrency

The 'Buy' feature in Trezor Suite provides a simple and straightforward interface for buying cryptocurrencies and receiving it directly in your account.

Using the in-app 'Trade' feature, Trezor users have secure, instant access to bitcoin and other cryptocurrencies. This is made possible thanks to the crypto exchange comparison tool created by Invity, a SatoshiLabs company that connects you with trusted partner exchanges to fulfill direct-to-custody trades using your preferred payment method.

All transactions are performed using your Trezor device, reducing the risk of errors and ensuring the coins you receive are exclusively in your custody.

Trezor users can buy bitcoin and dozens of other cryptocurrencies using their Visa or Mastercard personal credit card, SEPA bank transfer, or a number of other regional payment methods like SOFORT, iDeal, EPS, Bancontact and more.

You can find a full list of available payment methods and corresponding regions here. Similarly, a wide range of fiat currencies are accepted; you can find the current list of fiat currencies accepted by Invity's providers here, though not all providers may accept all currencies.


SatoshiLabs does not directly facilitate trading your cryptocurrencies. The service providers integrated into the buy feature are third-parties carefully selected and vetted by
Invity
, another SatoshiLabs company.
Third-party service providers may, and usually will ask for personal identification and sensitive information to comply with AML/KYC regulations. You can review a full list of Invity's providers along with their associated fees
here
.
Using the Buy option in Trezor Suite
Start Trezor Suite and connect your device. Once connected and unlocked, click on 'Accounts' and choose the account you wish to trade with; then click the green Trade button in the menu bar: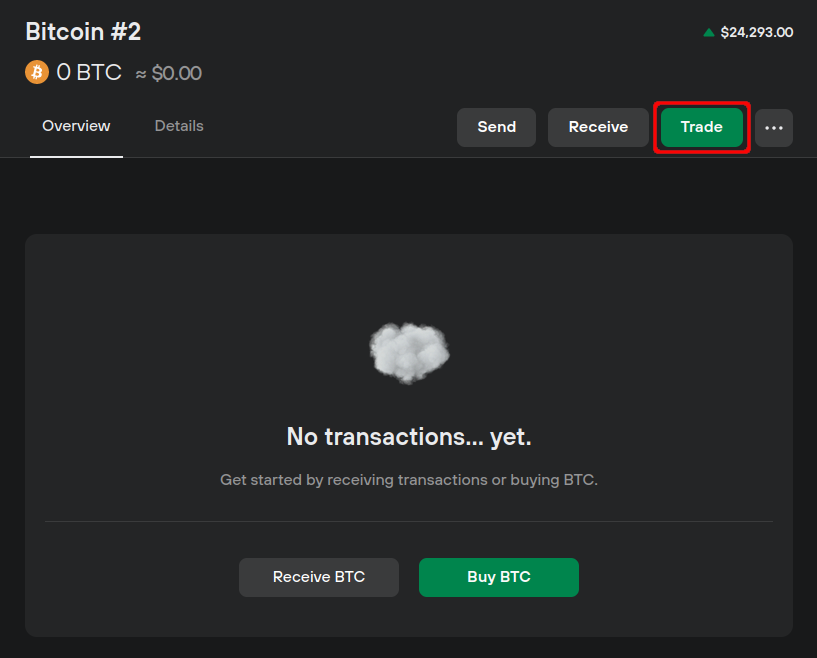 You will then be presented the with Trade menu, with the Buy tab selected by default: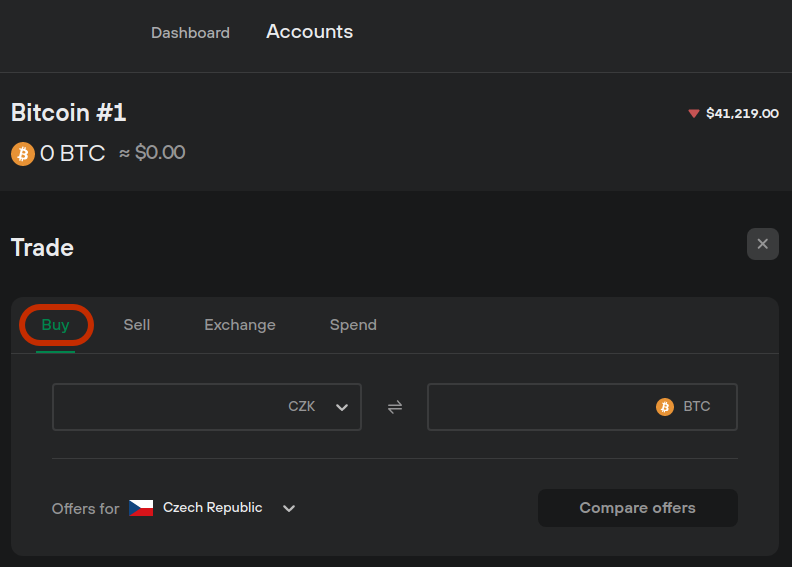 Here you can convert your local fiat currency into digital assets.
First, specify the currency you're using and how much you want to spend
Then make sure you have the correct country selected in order to find relevant offers
Alternatively, you can specify the amount of the specific cryptocurrency you wish to buy, and then see how much you'll need to spend
Once you've decided how much you want to spend, click on the Compare offers button: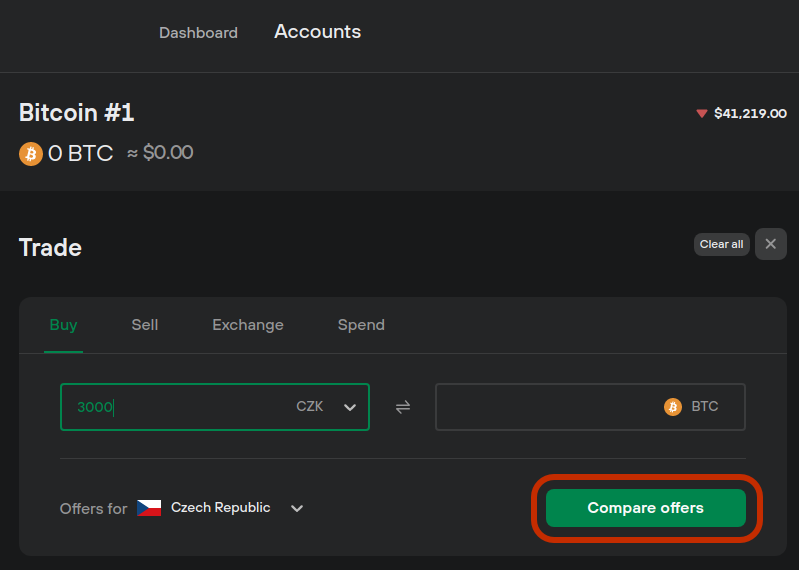 You will then be presented with various offers from selected third party service providers.

Offers from a total of 12 crypto exchanges are compared and listed according to best value. But if you find you prefer a specific payment method — such as debit card, bank transfer or a local payment option like iDeal or Sofort — that info is included with each offer as well.

Of course, you can also decide which offer you like based on whether you get a better deal using another currency, or prefer to use a certain exchange. What holds them all together is that all exchange fees are included in each offer.

Once you've chosen an option that suits you best, proceed by clicking on Get this deal: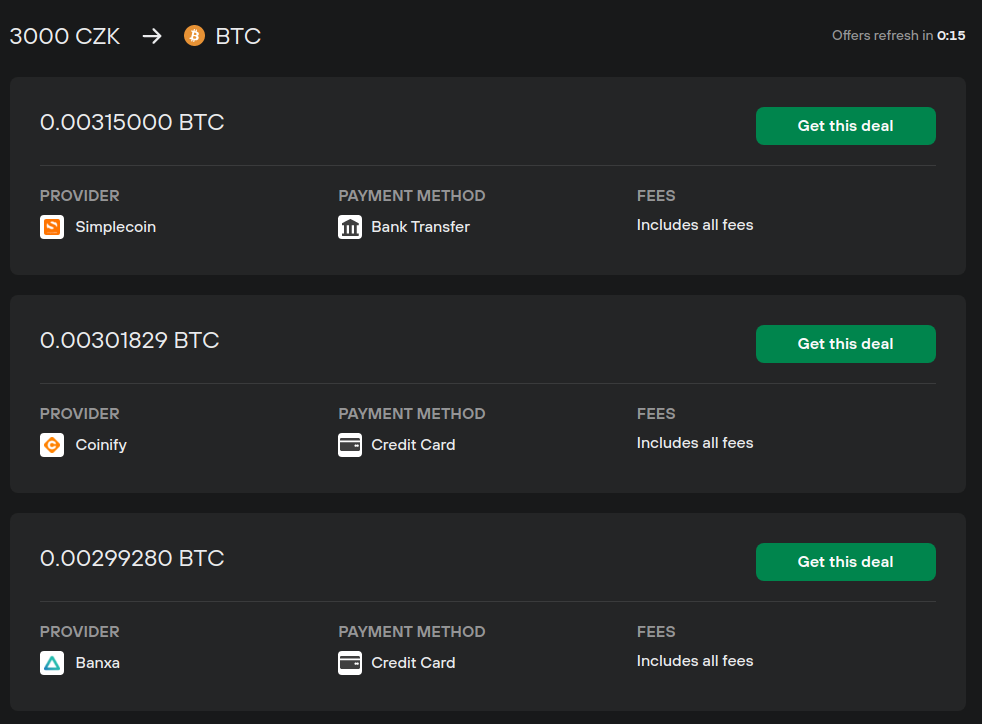 You will also have to agree to the terms of use: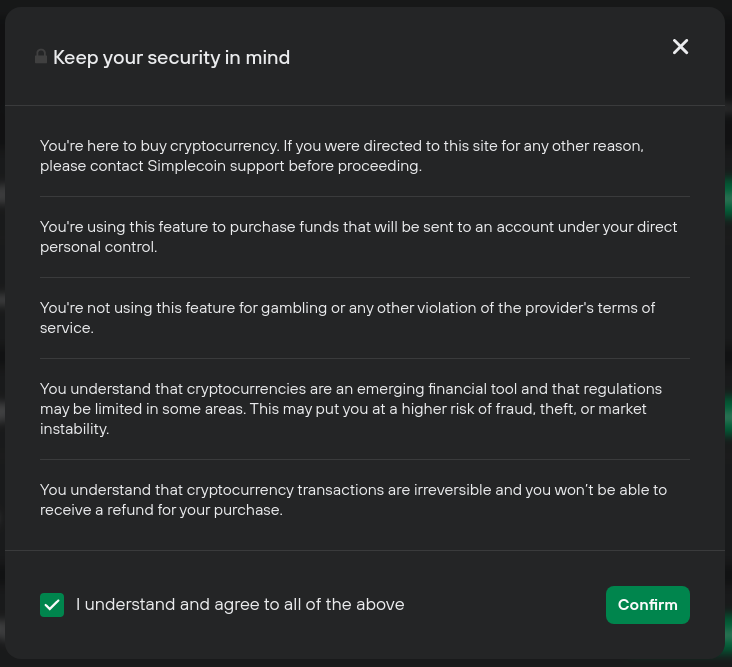 Now, your Trezor will generate a receiving address for the exchange to send your coins to. Confirm the address shown on your Trezor hardware wallet matches the one shown in Trezor Suite: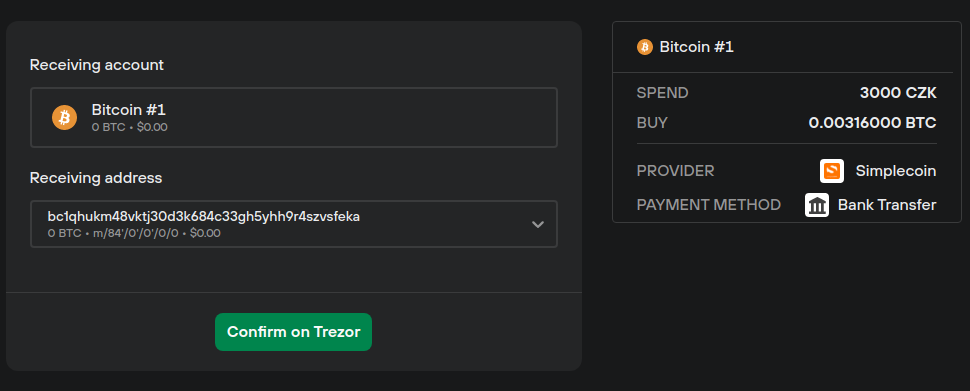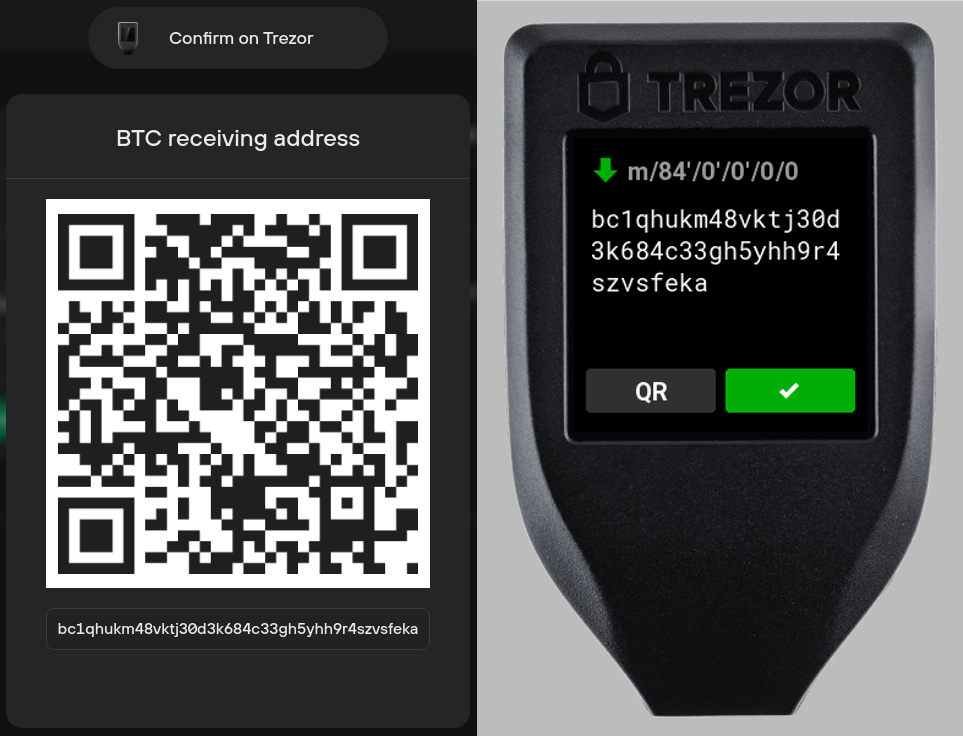 After confirming the address, click on Finish transaction, and you will then be redirected to the exchange's website to complete your payment and provide any necessary documentation they may need.

Note that exchanges may ask for proof of identity as part of KYC requirements. Once complete, the incoming transaction should appear in your account within half an hour.
How are the exchange partners selected?
All the Trade features in Trezor Suite (Buy, Exchange, Sell, Buy P2P, Spend, Save) are integrated thanks to Invity, another member of the SatoshiLabs Group.

Invity is responsible for selecting, vetting, and maintaining a list of verified third-party providers via whom you can trade cryptocurrencies seamlessly directly in Trezor Suite. Since security has always been our utmost priority, this selection process is careful, thorough, and rigorous. Feel free to review the full list of Invity's providers, along with their associated fees here.

As a rule, we integrate only non-custodial exchanges. That means whatever you buy does not stay on the exchange but has to be immediately transferred to a wallet of your choosing—direct into your custody.

Over the years of providing the crypto comparison tool and transaction services for Trezor, Invity has also developed a comprehensive list of qualities they seek in a crypto service provider.

To name just a few:
Good reputation in the community
Positive customer experiences
Full legal compliance
Unique or broad coverage of supported fiat currencies and methods of payments

All partnerships are regularly reviewed, resulting in a continuously curated list of the most trustworthy crypto exchange providers, and guaranteeing problem-free transactions.

However, should you wish to avoid exchanges completely, feel free to take advantage of Invity's integration of the P2P Buy feature via the secure platform Hodl Hodl.

What are the KYC requirements of third-party exchanges?
In order to buy or sell cryptocurrencies in Trezor Suite, third-party service providers may, and usually will ask for personal identification and sensitive information to comply with AML/KYC regulations. These providers are carefully selected by Invity, a SatoshiLabs company that is behind the Trade feature integration.


What is KYC?

KYC stands for know your customer. As a part of anti-money laundering (AML) guidelines, it is a legal requirement for financial institutions, banks, as well as services such as stock trading platforms, gambling sites, or crypto exchanges. It is intended to verify that the provider can trust you, but also that you can trust their legal compliance. In practice, it typically means you will be asked to provide your phone number, a copy of your ID, and sometimes a selfie before making your first transaction on a given exchange. After you've done that, you're usually good to use the exchange without providing any more ID in the future.


Our approach to KYC

No information is ever collected by Trezor or Invity. We only facilitate the requirements of the providers that are integrated into Trezor Suite. All providers are carefully vetted with their data security and reliability being one of the deciding factors.


Providers

Most providers require some sort of KYC. If you want to buy crypto through these providers, you will have to go through the process and will be seamlessly guided step-by-step. However, certain providers offer time- or region-specific non-KYC trading options up to a certain transaction limit, e.g., Mercuryo or Simple Coin.


Exchange providers, on the other hand, are mostly fully non-KYC, allowing you to trade between cryptocurrencies freely.


If you want to avoid KYC when buying bitcoin completely, check out Invity's integration of the P2P Buy feature.
Complete your transaction with the provider
You'll be directed to a secure gateway maintained by the transaction partner you have chosen. Follow their directions to complete your transaction. Know your customer (KYC) requirements vary depending on the provider and the amount you wish to purchase, but it is likely that you will be required to complete a partner's KYC procedure.

Once you have successfully finished a KYC process or logged into your existing provider account, you can make the specified payment with your chosen payment method.

Await delivery of your cryptocurrency
Once you have made your payment, you will be returned to Trezor Suite. Your cryptocurrency will be sent directly to the address you confirmed on your device as soon as your payment is received. Providers strive to ensure your crypto is delivered promptly, though it can sometimes take up to several hours. Check your wallet periodically to ensure that you receive the correct amount of crypto in the correct wallet account.